Gasoila Soft Set PTFE Thread Sealant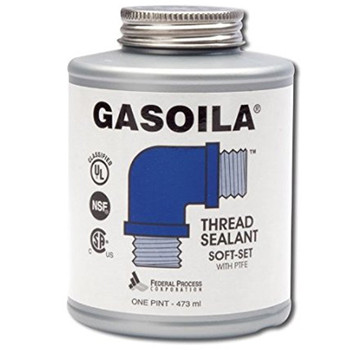 Material Data Safety Sheet (MSDS)
Soft-setting, non-toxic, PTFE paste.
Provides a positive seal on pipe threads, joints, fittings, hoses, nozzles, LPG cylinders, pump assemblies, oil burners, hydraulics, compressors, engines, motors, housings, plugs, fuel lines, couplings and more.
Use on brass, copper, stainless steel, aluminum, black pipe, tin, galvanized, ABS, CPVC, PVC plastics, nylon, polyethylene, polypropylene, polybutylene and more.
Excellent resistance to gasoline (up to 20% alcohol and petroleum blends), petroleum solvents, kerosene, diesel oil, propane, butane LPG, cutting oils, ammonia, aliphatic solvents, acids, steam, potable water, compressed air and more.
NOT for use on oxygen. Remains pliable in cold temperatures.
Temperature Range: -100°F to 600°F (-74°C to 318°C).
Pressure Range: To 10,000 psi sealing liquids; to 3,000 psi sealing gases.
One year shelf life when stored at 40°F to 80°F (5°C to 27°C).
Special Shipping Information: This product may not be available for 1 or 2 day shipping due to federal regulations that require it to ship via ground ship methods only. This product can only be shipped within the 48 contiguous states.
Description

SKU

Price

983100

983101

983102