Schedule 40 CLOSE Pipe Nipples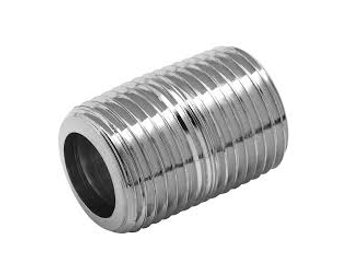 304 & 316 stainless steel dual specification L-grade
Dimensions to: ASTM A733 ANSI B1.20.1 and ANSI 36.19 ASTM A312
Does your application require Made in USA? Let us know on your order.
Material test reports available upon request.
NPT, NPTF, NPSM, BSPT - Various lengths in Schedule 40, 80 or 160, Welded or Seamless are available by request.

Custom lengths made to order in any schedule/material. Call us at 1-800-569-0810 or email us for pricing and delivery.

Theoretical Bursting Pressures
Description

SKU

Price

27-4M3/4

27-6M3/4

27-6N7/8

27-4N7/8

27-6O1

27-4O1

27-4P1-1/8

27-6P1-1/8

27-6Q1-3/8

27-4Q1-3/8

27-6R1-1/2

27-4R1-1/2

27-6S1-5/8

27-4S1-5/8

27-6T1-3/4

27-4T1-3/4

27-4U2

27-6U2

27-6V2-1/2

27-4V2-1/2

27-4W2-5/8

27-6W2-5/8

27-4X2-5/8

27-6X2-5/8