Polypropylene Camlock Fittings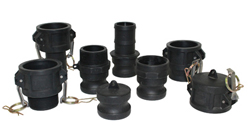 Buyfittingsonline makes it easy for you to purchase your aluminum camlock fittings all in one place.
These polypropylene cam and groove couplings are stocked in sizes 1/2"-6", with special sizes obtainable by request.
Camlock fittings, are also known as cam and groove fittings or camlock couplings.
We currently carry stainless steel, brass and aluminum camlock fittings. Used in many different industries and applications, camlock fittings are very useful when disconnecting or connecting pipe, hose or tubing.
When selecting the proper camlock, it is important to be mindful of the chemical compatibility of the process fluid and wetted material, process temperature and proper mating adapter or coupler.