Forged 45 Degree Street Elbows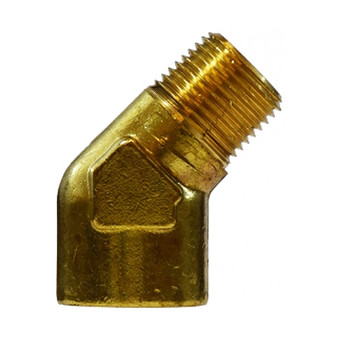 View Sizing & Dimensions
Assembly & Install
Material Specifications
Typical Application: Grease, fuels, LP and Natural gas (available on special order), refrigeration, instrumentation and hydraulic systems.
Pressure: Operating pressure up to 1200 PSI.
Vibration: Fair resistance.
Temperature Range: -65° F to +250° F (-53°C to +121°C).
Used With: Brass, bronze, copper, steel, aluminum and iron pipe.
Tolerance: +/- .02 on all dimensions. Dimension Data can change without notice. Please call us when dimensions are critical.
Conformance: Meets specifications and standards of ASA, ASME and SAE
Not lead free
Note: L at the end of a Part# means Light Pattern - these fittings are completely interchangeable with full pattern fittings, but have been modified in some way. This modification is usually in the length of the pipe threads. Used in plumbing and light industrial applications.